War Diary 1914-1918 Constant Vincent
in the 57th and 60th RI (regiment of infantry)
Any help to improve the translation is welcome
| | |
| --- | --- |
| | |
Constant Vincent, my great-grandfather, was born February 27, 1892 in Saint-Maurice-des-Noues in gâtine Vendée (west France), parents farmers. In 1909, he was 17. This is the year that his family will settle in Charente-Maritime Gémozac. In 1913, Constant 21 years, and to do his military service in the 57th RI, 2nd Battalion, 7th company.
To mobilize an infantry regiment (3400 men) is composed of three battalions (1120 h). Each is composed of four companies (280 h). A company is composed of four sections (70 h). A section is composed of two half-sections, led by a sergeant (rank Constant March 14, 1916). A corporal (rank Constant October 21, 1914) leads a squad, or 15 h. An infantry division consists of two brigades, each composed of two infantry regiments, an artillery regiment, a squadron of cavalry and a company of engineers.
This document is a transcript of excerpts of Constant Vincent's specifications of war that I found the most important. The document has been discovered after his death, because he had told nobody about it. He wrote this book in December 1917, probably from different notes he took during his free time at the front. The original manuscript, although beautiful writing, often lack of punctuation and spelling and grammar are approximate. To make the story more readable, so I added paragraphs and titles added punctuation and correct spelling, grammar and the names of people or places as far as possible. I also added notes and corrections of names in parentheses and plans, photographs and postcards to illustrate the story (1/3 of the documents come from my personal collection).
V. Juillet, on 07/31/2006
Constant incorporations during the war
1914: Fifth Army, 139th RTI, 18th Army Corps General Mas Latrie, 35th Infantry Division, 70th Brigade General Pierron. The 35th DI consists of the 6th and 123e RI (69th Brigade), 57th and 144th RI (70th Brigade), 24th Field Artillery Regiment, 10th Hussars (one squadron of cavalry) and 2nd Engineer Regiment (Company 18/1)
1915 57th IR, 36th Company (August) and the 9th Battalion (Battalion walk), the 28th company
1916 and 1917: Sixth Army, 54th RTI, 7th Army Corps General de Villaret, 14th Infantry Division, 27th Brigade, 60th RI, 2nd Battalion (Peyrotte), 5th Company, 4th section. The 14th ID is composed of the 44th and 60th RI (27th Brigade), 35th and 42nd RI (28th Brigade) and the 47th RAC
Summary
Military service and mobilization ((October 10, 1913 - August 6, 1914)
Road to Lorraine (August 6 to August 18, 1914)
Arriving in Belgium - Battle of Charleroi (August 18 to August 23, 1914)
Retirement, fight Guise(August 24 to 5 September 1914)
The offensive of the Marne (September 6 to September 13, 1914)
Fighting in northern Reims, fixing the front line(14 September-10 November 1914)
First injury and recovery (November 11, 1914 - April 25, 1915)
Back near the front, work in the vicinity of Nancy (April 26 to October 4, 1915) 1915 Predictions
The 60th RI: Champagne Suippes, Bar-le-Duc, Mailly (October 5, 1915 - February 20, 1916)
Outbreak of the Battle of Verdun, wood Caures (21 February - 1 March 1916)
To the south-east: north of Toul (March 2 to April 10, 1916)
Back to Verdun (April 11-May 19, 1916)
"Rest" in the Vosges and Alsace (20 May -21 July 1916)
The Somme: Bouchavesne ((July 22 to October 4, 1916)
Sector of Hand of Massiges (October 3 to December 31, 1916)
Before the offensive of the Chemin des Dames (1st January - 15 April 1917)
The general offensive on the Chemin des Dames (16 April 1917)
Injury and recovery in Gimont, Gers (16 April to September 5 1917)
Stay at the naval hospital Rochefort and reform (September 6, 1917 - February 5, 1918)
----------------------------------------------------
1914
Military service and mobilization (October 10, 1913 - August 6, 1914)
Since the 1912 class I was called in on 10 October 1913 to two years in the 57th Infantry 7th Company in Rochefort-sur-Mer. For ten months of life was quite pleasant. I was on leave of twenty-four hours quite often. At Christmas 1913 I got eight days. At Easter 1914 eight days. In July we went from Rochefort to Bordeaux on foot to make changes in a few days. The regiment was stationed at Camp Saint Médard in tents. The 144th was with us. On our return we boarded the Gare Saint Jean in Bordeaux. The day after our return to Rochefort I went on leave harvest twelve days. On July 20 I went to leave twenty-four hours Vendée my brother Henry. Her little girl was at that time a fortnight. On my return to Rochefort could hear one conversation. "We're going to war." This word frightened nobody for August 2nd most wanted to believe. Despite this until the day we said almost always wanted to barracks.
Finally August 2, 1914 at two o'clock in the afternoon mobilization was announced throughout France. In the barracks it was announced by the bugler. Also this ringtone so sad all of us had a moment of emotion that was short indeed. At the soup you just tell us that same evening there was retirement. The city tour we did in leading the singing with music Colonial 3rd, the 57th and sailors. We had permission of the night. And strange thing we saw sailors and soldiers together as brothers saw that before it is completely wrong. On 3 August the 7th and 8th companies Martrou we left the barracks to go to high school. The four we finally we dress. The five were given the cartridges. At 7 o'clock we formed beams bags and guns in the yard. At midnight we left the High School to get to the station on board. In the streets there is a huge crowd to see us leave and many are crying. But despite all soldiers and officers leave happy because none of us has had an idea of ??what would happen to us.
| | |
| --- | --- |
| | |
| Gémozac - Commerce Street | Mobilization - In all the stations, the start is enthusiastic This is the cry of "Vive la France" all responded to the call order |
| | | |
| --- | --- | --- |
| | | |
| reconstitution - The French uniform in 1914 | | German uniform in 1914 |
Road to Lorraine (August 6 to August 18, 1914)
Journal of Power Operations (JMO) of the 57th RI: August 2, 1914 - January 26, 1915
On August 6, about six o'clock in the morning we left Rochefort, taking with us the true hope of the return and victory. Niort to reign true silence because many of us take a look at the homeland and with an air of compassion we wonder if it may be the last. A Niort station is full of people coming and going. Many wish us good luck and speedy return to winning ways. It gives us much of any kind of bouquets of flowers. We adorn the cars with the inscription "Train of fun in Berlin". A Saint-Maixent same. Also it is the merriment back. They sing loudly as if all was well. Finally we are in New Orleans. We announced a half-hour stop and give us coffee. We're back and we continue our journey in the direction of the east. At 6 o'clock we land and it rains as everything is not gay.
We went confine 6 kilometers. The rain continues forever. We arrive. It makes the soup to nine. We go to bed at ten o'clock and alert. Everyone out half naked with gun in hand. After ten minutes you realize that this is a joke. Instead of being a patrol Hulans are cows running in the fields. We laugh, but we say that it is the war begins. We stayed there two days. The day after our arrival the weather came to appear. The village we stayed in was located on the river where we could go fishing and swim. Finally comes a time when it starts up. On several days have been very tiring because of the great heat. We went to Pont-Saint-Vincent and then we followed the line of forts and the river.
And finally on August 15, we were billeted in a small country a few kilometers from Pont-a-Mousson and despite the bad weather and the party we went to exercise and trenches. The evening there was music. On 16 August we leave the country in a hurry to get to Pagny-sur-Meuse in the space of two days, although the first and second it rains it gets very hot. We arrived at Pagny-sur-Meuse in the evening of 17-5 pm. We made a great stop until the 123rd Infantry. From the dark we went on board. There I saw Mr. Souc doctor Gémozac and at that time was a major in the 58th Artillery.
| | |
| --- | --- |
| | |
| After each period of 50 minutes is made a stop time of 10 min. | The grand'haltes: Normally 2/3 or ¾ of the stage, duration 1 hour or a little more ... The company disposes of the bag, beam guns, we cooked, we eat etc ... |
Arriving in Belgium - Battle of Charleroi (August 18 to August 23, 1914)
At ten o'clock we left Pagny-sur-Meuse and the next day (August 18) at 6:00 in the morning we landed at Sens (Sains) in the North. And then we went to confine five hundred meters from the Belgian border. From there we had several days of walking all along the border. Despite all our travels we have always been well bunkered.
On August 22, in the evening we go to Belgium. We have supper quietly but warned us that on the night we leave. At nine o'clock, when we hoped to rest, it brings us together and we set off. At midnight we arrive at the cantonment. As there is very little room in the company of two friends, I decided to sleep outside in a pile of straw. But instead of springs that are pebbles. The 1st Battalion was at the forefront and inadvertently in the night a mounted scout was killed by one controlled by a lieutenant section. The same night the 15th Dragoons stationed at Libourne happened in the country where we were billeted. We learn from them the same day August 22 On the 49th Infantry stationed at Bayonne had fought and was repulsed with loss. Despite this bad news none of us lost our courage and great was the desire to see the enemy. Something that does not happen soon. August 22 was a day when we started to think, because since we left most of us were without news of their families. What was happening? Was unknown. Nevertheless all of us kept a gaiety in which it was difficult to perceive boredom reigned in their hearts.
No need to tell you that this is an unforgettable day where we learn to love and cherish those we have loved and cherished until the age of twenty years, our parents. And the day that happens these things require only joy, that to see their beloved children.
On August 23, 1914 from our encampment at 5 in the morning. Patrols are detached forward because the enemy is reported in the vicinity. After a few kilometers we come to a wood where we sit and where we are covered views of the enemy. Five hundred meters away a large farm where our commander. I saw myself four to twenty parts of cattle of all ages, twenty mares and a huge stallion. All this for me was curious. About ten o'clock we are gathered and takes us up cartridges on a road which is about three hundred yards from where we are placed. Belgians march there, men, women and children of all ages each carrying barely enough to change and crying. We are announcing the arrival of the Germans at home. As each of us said, "It is now." And indeed around noon we put the bag back and we start running through the fields of beet and flax. The cannon is heard. As you say "funny music". Arrive enemy shells that we see popping close to us and for a moment cause a strange feeling. It continues, nobody touched. Laughter returns. To 2:03 scouts encountered. These are two hussars whom died and one was injured.
At four o'clock the Battalion gathered on the banks of the Sambre, a small river which flows a clear water where we could satisfy our thirst because it is very hot and is feverish at the thought of what will happen . About five o'clock the approach march is resumed. The guns are heard. The gun redoubled energy. It bayonet charge because the Germans are there. Our Captain is head, swords, pipe in mouth, dressed as for the parade. As it is he who falls on the first hit by three bullets. And with him many comrades fall. As one stands on the site a while. Then comes the night. The Germans load on us much higher number. They have small white flags and shout us not to shoot, they are English. They are barely fifty meters from us. You can clearly see their spiked helmets, but it's too late. More quickly than say they fired on us and three companies as 5 - 6 - 7 are deployed as skirmishers and standing a quantity falling dead and wounded. On this nothing to do, we shoot. But after a few moments he must leave. We would have taken but a machine gun under the command of Lieutenant Joube by his quick and accurate shot, managed to stop for a moment the march of the enemy. This allowed the valid from and take some casualties. Finally we go back to back in full stampede because the rally was a few kilometers.
JI'm with Sergeant Cavaignacs that during this campaign came to Captain and was killed in 1916 in Verdun. There are many wounded. The ambulance car is full. Less walking wounded and are supported by their peers. Among them is our Sergeant Major Terrador (Terracol?) Wounded in the chest, and was killed in 1915 as a Lieutenant in the Aisne. About ten o'clock the survivors of the battalion were at the assembly point. The flag believed to be in the hands of the enemy was there.
(The flag of the 57th RI wearing a cross after the regiment had removed the flag German regiment number 16 in 1870, the 16th IR who was just in front of him in this fight. During the attack, the cross was torn by a German bullet.)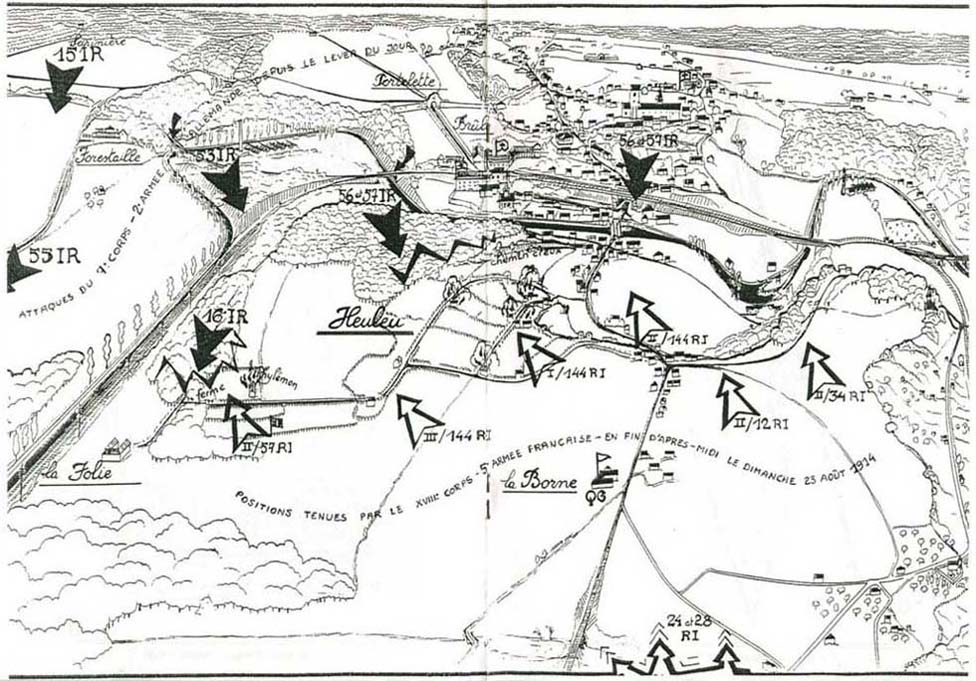 August 23, 1914 - Battle of Lobbes - Battle of Charleroi. First fight Constant Vincent 57th RI, near the farm Phylémon
| | |
| --- | --- |
| | |
| Canon 75 - Introduction of the cartridge | machine gun battery |
current view of the battlefield from the belfry of Lobbes - the monument is located near the old farm Phylémon
booklet Lobbes August 14 and booklet heroic Walk Lobbes : the 57th and the 144th RI August 23, 1914
extracts Logbooks Sergeant Dartigues (7th Company)
The extracts of the 57th Infantry Regiment during the Great War (Commander Couraud)
photos and postcards from the battlefield and Lobbes
monument in honor of the 57th RI Montignies-Saint-Christophe, Belgium
Battle of the Frontiers (Charleroi, Gozée, Lobbes) Part 1 Part 2 Part 3
Retirement, fight Guise (August 24 to 5 September 1914)
It starts up. At 2:00 in the morning (24 August) you arrive in a great country where you confined to the town hall. We're tired, we're hungry, we're sweaty. One thinks of the absent comrades. All this is far from being gay. It lies on the floor. It does not matter, it rests. Morning (August 25) at daybreak we leave unknown direction. In the evening it is expected another attack but it is not. In the evening we billeted. At 11:00 (26 August) and alert you share. We walk all day. Fortunately we were able to get bread. 27 continue. We are back in France.
The 28 day is beautiful. Also there is barely day the regiment together and starts. About 2 hours in the afternoon the enemy is reported about ten kilometers. As soon as you take the leading devices. The approach march begins. We are happy because we got to eat before and while walking a Belgian cigar Warrant Officer George got the pleasure to offer us one smokes. At this time the battalion was commanded by a captain for 23 Lagire the commander was wounded and the captains of the 5-6-7th companies killed. With us is the 24th Artillery On. About five o'clock we made contact with the enemy retreats but we inflicts losses. The captain commanding the battalion was killed. This is Lieutenant Courreau (Couraud) takes the lead. It also puts us in store and fortunately we had some losses. Finally in the evening we seized Guise where the dark the first battalion moved and remains there to allow the withdrawal because although we had repulsed the enemy, continuing retirement. The day was sad for us despite our best efforts. On August 23, the regiment fought between Thuin and Lobbes but it was the Battle of Charleroi. August 28 Guise was simply called combat.
details on the fight by Bernard Labarbe and maps battle of August 28
To tell you the impression that I had two days 23 and 28, it was quite bad, because it was an overwhelming fatigue. We ate walking and drinking water. So we did a little looters. Many houses were abandoned on our road, so we grabbed what could drink and eat. Painful thing to see is that with us many immigrants, poor people learned to go. The roads were blocked so that most of the time, we poor soldiers, he had to go into the fields. Also walking it became painful.
On August 30, we are in the Oise on the outskirts of a small country where we expect the enemy. 31 in the morning we advance. About ten o'clock the 123rd crosses ahead. Also by chance I saw Jadeau Ferdinand, who also unfortunately fell in the heart of this campaign. Around noon the fight starts but soon we receive the order to retreat. Which is continued. That day Raymond Allaire was evacuated to Paris where he died soon after, and buried him in Cravans.
On September 1, there was for the first time retail letters. So I got a start telling me my brothers and brothers-and good health for all. But this letter is dated the first day of August. Nevertheless it was a pleasure. Not to change, despite the fatigue, we continue. We walked day and night.
September 3 reign a true debacle. We see people of all mixed pointing to the side where the random pushes weapons. All are almost without bread or meat.
About three o'clock (Sept. 4) great stop. We began to cook as soon as it was all coffee and bacon hit the day before and beside us there is a field of potatoes. Hopefully, we rejoice because we will eat. Everything was ready for suddenly alert. It turns everything upside down, you put a backpack and we share in speed because the enemy is close and even more who could not follow the column were captured.
On 5 September the weather is very nice. At 5:00 am everyone is ready to go. About ten o'clock the regiment together. The order is set and the set is severe. Rather be killed on the spot that back.